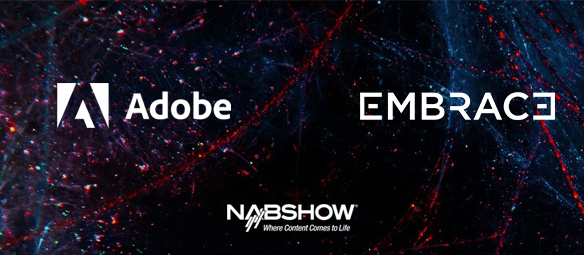 Major Release – 2022 NAB Show
Embrace to launch major product releases at NAB
Paris, France, April 22, 2022 – Embrace will be exhibiting at NAB Show 2022 to introduce major updates and innovations to its product line and integration with Frame.io.
Embrace empowers content creation with user-centric solutions to automate, collaborate and orchestrate video and graphics workflows.
The Company develops advanced automation, orchestration and collaboration solutions for the content creation industry and offers streamlined production platforms, with integrated panels and API control to extend Adobe® Creative Cloud® video and graphics workflows.
Since 2015, Embrace has helped leading broadcasters and media services companies to solve operational workflow pains by implementing user-centric solutions that invite customers to welcome digital transformation positively, for their own performance. 40+ customers around the world have successfully adopted these solutions.
At NAB Show, Embrace will be introducing and demonstrating major updates to its products Automate-IT, Share-IT & Pulse-IT as well as integrations with Frame.io.
Automate-IT: Promo Versioning. At Scale
The leading Promo Versioning Platform enables broadcasters and media services companies to package and deliver promos automatically. The solution offers a complete end-to-end graphics workflow automation, graphical chart compliance and secured distribution of generated clips with an intuitive built-in nodal design tool for workflows. Automate-IT embraces the complete production life cycle by increasing the visibility of the traceable flow of media from Adobe After Effects® templates to editorial and digital distribution, resulting in increased efficiency and throughput.
Automate-IT v3.0 brings:
Dramatically reduced rendering times with new release for After Effects,
Improved user interaction and reusability,
Day-to-day project organization and management,
Enhanced tools to speed up forms, workflow and sequence design,
More granular resource management.
Share-IT: Collaboration for Adobe video & graphics tools
Share-IT allows users of award-winning Adobe Photoshop®, After Effects and Adobe Media Encoder to easily connect with leading Media Asset Management systems such as Avid MediaCentral. Creative professionals using Share-IT enjoy a unified experience for connected workflows with other departments, without having to leave their favorite creative apps or acquire any MAM or PAM expertise. Share-IT comes with new features such as:
Clustering architecture for improved performance and scalability,
Complete redesign of the panels for Adobe Photoshop and After Effects,
Files exported from the Avid storage are now copied next to your Adobe project, simplifying and securing project media management and archiving
Pulse-IT: Media workflow and orchestration optimization
Pulse-IT enables to translate, optimize, execute and monitor business and broadcast processes and workflows. Pulse-IT includes simple tools for complex situations built with bundled task templates or extended with minimal code that can be performed immediately or as scheduled jobs. All execution is managed via a comprehensive, real-time, secure dashboard accessible with specific organisation.
At the core, Pulse-IT is the orchestration layer accelerating a wide variety of content creation or broadcast processes from ingesting, transcoding, AI transcription, metadata mining, asset management, asset utilization, automated content processing, or post-production, transcoding, packaging, versioning egress to distribution.
With Pulse-IT v3.0, man-in-the-middle experience keeps improving with:
Even greater operational efficiencies,
Simplified collaboration for ingest, QC, post-production, distribution and archive
Frame.io integration to simply connect legacy processes and technologies
Embrace will be exhibiting within the French Pavillion in West Hall (booth W7416). If you'd like to meet or arrange for a demonstration at the show, please send your meeting requests to contact@embrace.fr.
About Embrace
Embrace produces software that automates systems and connects people. The technology developed by Embrace is used extensively by promo and creative teams around the world to generate videos with graphics automatically and connect the creative departments efficiently with the rest of the production environment. Our products are heavily used 24/7 by leading media groups such as ABC News, A&E Networks, Arte, BCE, BeTV, Brut, CANAL+, CNEWS, Council of the European Union, DOCK10, Eurosport-Discovery, France Télévisions, Mediawan Thematics, INA, Nine Network, Orange, Red Bee Media, RTL Group, SVT, TF1, TV5MONDE.
Please visit www.embrace.fr for additional information.
Adobe at NAB 2022
At NAB 2022, Adobe will showcase ways for video editors and key project stakeholders to collaborate seamlessly in the cloud. Adobe is bringing Frame.io's industry-leading video collaboration platform to its millions of Creative Cloud customers. The company will also feature new features in Premiere Pro and After Effects. NAB attendees can see the latest product demos at the Adobe booth (#N3404, North Hall in the Las Vegas Convention Center) from April 23-27.
For more information, visit www.adobe.com.