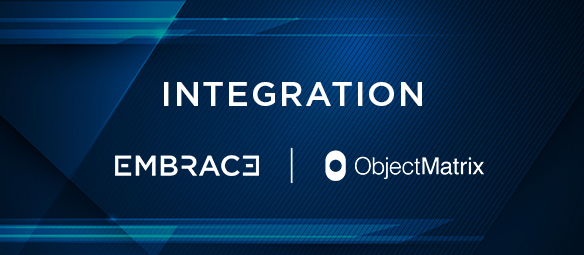 Integration of Pulse-IT with MatrixStore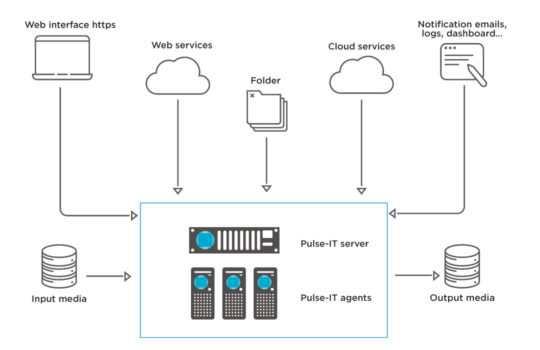 Pulse-IT, a low-code media workflow engine, unifies people, processes, and systems across organizations. Designed to simplify media workflows and stop repeating work, Pulse-IT streamlines enterprise-wide processes and accelerates digital transformation. Every task in your media process advances securely to the next stage to make sure your company runs more efficiently.
Pulse-IT enables you to translate, optimize, execute, and monitor your business and broadcast processes and workflows. Pulse-IT includes simple tools for complex situations built with bundled task templates or extended with minimal code that can be performed immediately or as scheduled jobs. All execution is managed via a comprehensive, real-time, secure dashboard accessible from anywhere in the world.
In our approach to customer sovereignty, Pulse-IT provides Open APIs which allow to perform complex integrations with other technology in a simple manner. this integration approach is behind the early success of Pulse-IT, our next-generation workflow orchestration platform.
Therefore, to build integration and automation solutions into its product, Object Matrix works with Embrace to embed Pulse-IT with Vision, a web-based media management application from MatrixStore that puts content in the hands of creative professionals where and when they need. Vision has the functionality to tag assets at ingest and during the lifetime of the asset.

Send the media, proxy and thumbnail to Vision using automation
Firmly integrated with MatrixStore object storage, this brings together the power of automated metadata extraction, advanced search options, and the tightness of access controls, ensuring freelance or permanent employees can find the content they are authorized to access.
Pulse-IT connects to the private and hybrid cloud storage platform, MatrixStore via the powerful and performant S3Connect interface provided by Object Matrix.
S3Connect enables applications to access MatrixStore object storage using Amazon S3 protocol. This gives all the functionality of standard S3 protocols but full and rich integration to MatrixStore.
One of the advantages of this collaboration for broadcast industry is to improve their efficiency by avoiding repeating work in Object Storage environment secure with full disaster recovery and business continuity built in.
To illustrate that, we created sequence which enables once a media is selected to send that media, its proxy, and its thumbnail to Vision using automation.
However, for a media to be playable on Vision we must have the media, its proxy, and its thumbnail and they must be linked with their object id. This is the reason why in our sequence, we send the media, the proxy of the media and the thumbnail to vison.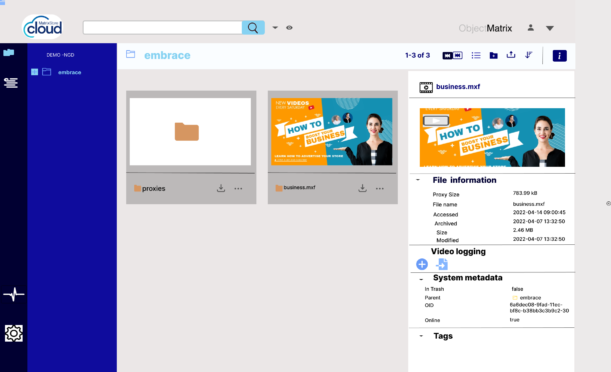 This sequence is an association of a user forms and workflow.



User forms represented by green: input that allow user to select a video from the selected folder.
Automated workflow represented by blue: a continuous set of tasks that build proxy and thumbnail from a selected media, send the media, proxy, and thumbnail to vision et finally from vision make the reference between them.
Embrace produces software that automates systems and connects people. Since its creation in 2015, Embrace has helped leading broadcasters and media services companies to solve operational workflow pains by implementing user-centric solutions that invite costumers to welcome digital transformation positively, for their own performance. The Company's' product line-up includes Automate-IT, the leading Promo Versioning Platform, Share-IT, the system that connects Adobe graphics tools with Avid MediaCentral I Production Management and Pulse-IT, the next-Gen Workflow Orchestration Platform.
The technology developed by Embrace is used extensively by promo and creative teams around the world to generate videos with graphics automatically and connect the creative departments efficiently with the rest of the production environment.
Indeed, our products are heavily used 24/7 by leading media groups such as ABC News, A&E Networks, AMG, Arte, BCE, BeTV, Brut, CANAL+, CNEWS, Council of the European Union, DOCK10, Eurosport-Discovery, France Télévisions, Mediawan Thematics, INA, Nine Network, Orange, Red Bee Media, RTL, Group, SVT, TF1, TV5MONDE.
Object Matrix is the award winning software company that pioneered object storage and the modernisation of media archives. It exists to enable global collaboration, increase operational efficiencies and empower creativity through deployment of MatrixStore, the on-prem, hybrid and cloud storage platform. Their unified deployment approach ensures content spans on-prem and cloud storage whilst their focus on the media industry gives them a deep understanding of the challenges organisations face when protecting, processing and sharing video content.