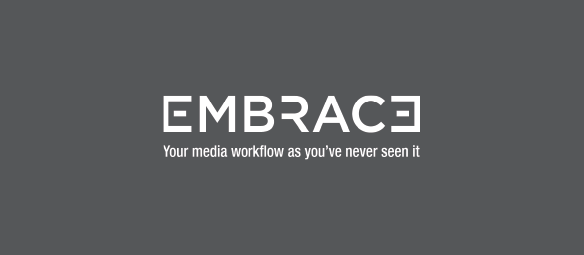 Automate-IT announces company rebrand to Embrace
Paris, France, September 03, 2019 – Automate-IT, a software provider of automation, orchestration & collaboration solutions for the content creation industry unveils today a rebrand to EMBRACE.
Since 2015, Automate-IT has helped leading broadcasters and media services companies solve some of their creative workflow challenges, streamline their operations and enhance the overall quality of their work. More than 40 customers around the world have successfully adopted Automate-IT solutions, in the cloud or on premise.
As of today, Automate-IT becomes Embrace.
This strategic change is meant to reflect better the company's core values and reinforce the vision into a new corporate brand identity.
The new name introduction comes with a product line-up refresh:
Automate-IT (formerly called "factory") to package and deliver promos automatically
Pulse-IT to manage, orchestrate and schedule complex business workflows
Share-IT to connect Adobe® video & graphics tools with MAM solutions
Julien Gachot, CEO, Embrace, explains: "over the past 4 years, our team has been committed to help transform the media industry with passion and innovation. Our DNA and core values remain unchanged as we will continue to deliver with the same level of excellence and professionalism. With the rebranding to Embrace we would like to thank our customers and technology partners for their trust and support to keep the momentum going!"
A new website will go live today to further explain the company's vision, products and expertise.
Embrace will be demonstrating Automate-IT, Share-IT & Pulse-IT at IBC in Amsterdam (booth 6.C26). Please click here to arrange a meeting.