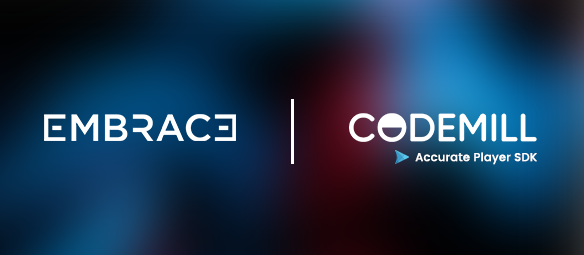 Codemill Integrates Accurate Player SDK with Embrace Solutions
Umeå, Sweden, 11th April 2023
Codemill (Nasdaq: CDMIL) has announced that its feature-rich video, audio, and subtitle framework Accurate Player SDK, has been integrated into software developed by Embrace.
Users of Pulse-IT for Media Supply Chain workflow orchestration, and Automate-IT for promo versioning at scale, will now benefit from Codemill's media application framework. The integration provides users with a complete overview of all video, audio, subtitle, and time-based metadata workflows, with frame accuracy.
Accurate Player SDK, Pulse-IT, and Automate-IT were created specifically for the needs of busy media professionals. Accurate Player SDK is designed to seamlessly integrate with any browser-based content management platform or media workflow application, and is built with the latest web component standards. Pulse-IT is a low-code media workflow orchestration engine, which enables users across an organisation to manage, schedule, and automate complex workflows, within one platform. Automate-IT packages and delivers promos automatically, for simple remote collaboration.
Accurate Player SDK enables Embrace customers to quickly add advanced functions directly from Pulse-IT and Automate-IT, within an intuitive user interface. Directly accessible from the form designer, Pulse-IT and Automate-IT users can now add pre-built tasks. These include a frame accurate media player (supporting Progressive, HLS, DASH, and WebRTC streaming), multi-channel audio and subtitle playback, advanced keyboard controls, a feature-rich metadata timeline, audio monitoring, metering, and image selection tools. An extensive front-end web component library, code examples, and a well-documented REST API are also available.
The Accurate Player SDK integration with Pulse-IT and Automate-IT from Embrace, delivers intuitive, elegant, and essential features for media companies looking to manage and visualise their media workflows in the cloud.
Rickard Lönneborg, CEO, Codemill, commented: "Embrace is a highly valued Codemill partner, and we're always keen to enhance the compatibility within our ecosystem of solutions. Accurate Player SDK was designed to streamline complex media workflows, and its integration with Pulse-IT and Automate-IT delivers a seamless playback experience."
Julien Gachot, CEO, Embrace, added: "We're thrilled to announce the integration of Codemill's Accurate Player SDK with Embrace products. With this collaboration, users can now enjoy a more seamless and robust video playback experience with the most accurate and reliable player in the market. This integration is a testament to our commitment to constantly improving and innovating our products to meet the evolving needs of our users."
Codemill and Embrace will co-exhibit on booth W2434 at NAB Show from 15th – 19th April. Schedule a meeting