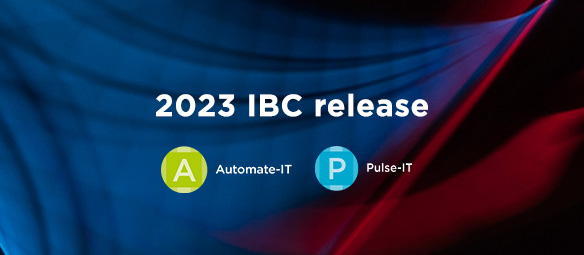 EMBRACE Launches New Release of Pulse-IT and Automate-IT at IBC
Paris, France, September 7, 2023
EMBRACE, developer of advanced automation and orchestration software solutions for the Media & Entertainment industry, is launching new versions of EMBRACE Automate-IT and EMBRACE Pulse-IT at IBC. The latest release features a high-scalability and high-availability version with Amazon Elastic Kubernetes Service (Amazon EKS) to support cloud-based deployments on Amazon Web Services (AWS). The new release also features Intelligent Workflow Auto-scaling, hybrid deployment flexibility, staging environment for a resilient architecture, Linux worker nodes, and security updates.
Pulse-IT is a media-oriented business process management software enabling customers to translate, optimize, execute, and monitor any business, broadcast, or digital media workflow simply and quickly.
Automate-IT is a promo versioning management platform bringing automation, orchestration, and collaboration to creative, Broadcast, IT and digital departments.
The new release of Pulse-IT builds on the EMBRACE original software architecture, delivering new Kubernetes capability to enable enhanced levels of scalability, reliability and efficiency. The containerized and Kubernetes-orchestrated software solution features a rich and extendable API-based software architecture that is integrated with third-party provisioning, cloud networking, and orchestration applications on AWS. The solution addresses specific needs for core broadcast content preparation applications and for delivering highly intensive file-based media workflow services.

To enable more flexibility and hybrid deployment, the new release also provides three ways for customers to deploy Automate-IT and Pulse-IT applications: as a high-scale, high-availability installation with Kubernetes using Amazon EKS (applies to Pulse-IT only); as a modern Docker containerized version (deployment using Docker Compose); and as a classic installation on Red Hat Enterprise Linux server 8.
Additionally, for improved reliability, automation, and monitoring, the new release provides customers with the ability to spin up a staging environment alongside their production environment as needed. The 3.2 release also comes with the ability to run Linux worker nodes for Pulse-IT, enabling customers to run their entire Pulse-IT application on Linux. Lastly, security updates and patches for Python and Django libraries are also incorporated in the new release.
"Virtualizing the EMBRACE core server was our first step toward unleashing a more flexible and scalable architecture around Amazon EKS – and we are pleased to see this solution deployed by a growing number of global broadcasters and operators. Now, through cloud-ready support, Pulse-IT delivers a new level of performance and density while enabling operational benefits, such as automated deployment and more granular system upgrades". François Billard-Madrières, Head of Engineering, EMBRACE.
EMBRACE will be exhibiting at IBC from 15th – 18th September on booth 6.C11. Get in touch to find out more about the new release or to book a meeting.
About EMBRACE
Since 2015, EMBRACE has been transforming content creation at scale by connecting people, systems, and processes. The company develops advanced automation, orchestration, and collaboration solutions for the media & entertainment industry and global brands. EMBRACE aims to unleash creativity and improve performance and experience around video and graphics supply chains.
Our products are heavily used 24/7 by leading media groups such as ABC News, A&E Networks, AMG-Mercedes, Arte, BCE, Be tv, CANAL+, Euronews, Eurosport, Mediawan Thematics, INA, Orange, Red Bee Media, RTL Group, Sinclair Broadcast Group, TF1, Warner Bros. Discovery.
Please visit www.embrace.fr for additional information.