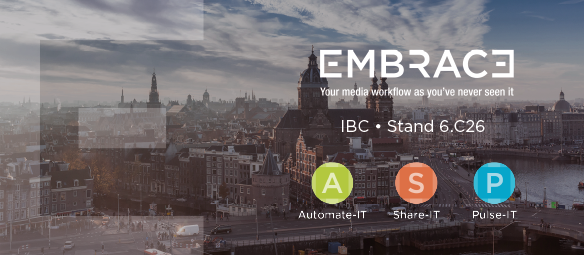 Embrace at IBC 2019
Automate-IT announces company rebrand to EMBRACE at IBC 2019
Paris, France, September 02, 2019 – Automate-IT becomes EMBRACE as part of a major rebranding at IBC 2019! A new name for a new momentum with major updates to the product line-up.
Corporate rebranding: Automate-IT becomes Embrace!
The Company develops advanced automation, orchestration and collaboration solutions for the content creation industry and offers streamlined production platforms, with integrated panels and API control to extend Adobe video and graphics workflows.
Since 2015, Automate-IT has helped leading broadcasters and media services companies to solve some of their creative workflow challenges, streamline their operations and enhance the overall quality of their work. 40+ customers around the world have successfully adopted these solutions.
At IBC, Automate-IT reveals a major rebranding to reflect the Company's evolution, reinforce its core values and vision into an all-encompassing identity. Automate-IT becomes Embrace, along with a new product line-up: Automate-IT (formerly Automate-IT factory), Share-IT & Pulse-IT.
Automate-IT : Promo Versioning
The flagship Promo Versioning Platform enables broadcasters and media services companies to package and deliver promos automatically. The solution offers a complete end-to-end graphics workflow automation, graphical chart compliance and secured distribution of generated clips with an intuitive built-in nodal design tool for workflows.
Forms, an intuitive HTML authoring tool, will be demonstrated at IBC. This new option available for Automate-IT enables users to create stunning panels to allow control for Adobe® After Effects® projects, without the need for advanced programming skills.
Share-IT : Collaboration for Adobe video & graphics tools
Share-IT allows users of award-winning Adobe Photoshop® and After Effects to easily connect with leading Media Asset Management systems. Creative professionals using Share-IT enjoy a unified experience for connected workflows with other departments, without having to leave their favorite creative apps or learn how to use a MAM.
A new floating license scheme will be showcased at IBC. It is designed for large media organisations and education institutions, allowing users to standardise Share-IT on all creative seats and allow a set number of simultaneous connections. Starting with 20 concurrent users and by subscription only, Share-IT floating license also provides administrators with specific license management and supervision tools.
Pulse-IT: Workflow Orchestration
Designed to simplify any media workflows and stop repeating work, Pulse-IT streamlines enterprise-wide processes and accelerates digital transformation. This next-gen open Workflow Orchestration Solution enables users across organisations to simply manage, schedule, automate and supervise complex media workflows. Pulse-IT unifies people, processes and systems. The solution will be released at IBC!
Embrace will be presenting Automate-IT, Share-IT & Pulse-IT at IBC (booth 6.C26). Please click here to arrange a meeting or book a demonstration.
About Embrace
Embrace develops automation, orchestration and collaboration solutions for the content creation industry. The technology developed by Embrace is used extensively by promo and creative teams around the world to generate videos with graphics automatically and connect the creative departments efficiently with the rest of the production environment. Our products are heavily used 24/7 by leading media groups such as A&E Networks, Arte, BCE, CANAL+ International, Eurosport-Discovery, DOCK10, France Télévisions, INA, Orange, Red Bee Media (part of Ericsson), RTL Group, SVT, TV2.
Adobe at IBC
Adobe Creative Cloud brings efficiency and speed at every step of the post-production workflow. From native file support and quicker rendering, a rich project format for designing workflows, professional audio mixing, motion graphics templates, and Adobe Sensei innovation, Adobe's integrated video editing tools help professionals turn footage into great storytelling. Adobe works with over 300 technology partners providing a rich and flexible production ecosystem for broadcast production. Stop by Adobe stand (Hall 7-7.B35) to see Adobe Premiere Pro, After Effects and Adobe Audition in action and hear how top customers get to the finish line faster with Adobe Creative Cloud.